Why Hort Air?

ABSOGER (www.absoger.fr) are world leaders in Controlled Atmosphere technology and onsite nitrogen generation. The French company has been manufacturing and selling a complete range of systems dedicated to fruit and vegetable preservation in Controlled Atmosphere (CA) and Ultra-Low Oxygen (ULO) conditions since 1976. They are also specialists in onsite nitrogen generation to the global wine industry.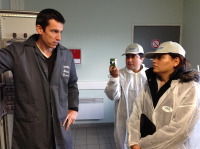 Benoit from ABSOGER in France
visits New Zealand. He is seen
here with a Hort Air Services client.
ABSOGER's experience in manufacturing nitrogen generators and the scope of their experience has also seen them expand into the treatment of dry, cooled, and compressed air, especially in the plastic and petrochemical industry.
The Controlled Atmosphere products offered by ABSOGER provide complete solution from measurement to control of gases in the cold storage rooms and packing house for fruit conservation. These products have been developed in collaboration with various research centres in France, Belgium and the USA.
Hort Air Services are the exclusive distributor of ABSOGER products in New Zealand and Australia. All ABSOGER products are manufactured in Toulouse, France.