New Controlled Atmosphere Installation for Shepparton
2 March 2015
Local Shepparton Apple and Pear producer G V Storage have just completed installation and commisioning of their new 8 controlled atomosphere rooms. Hort Air Services and ABSOGER were happy to supply all the equipment to GV Storage for their latest project. They installed the latest and most up to date controlled atmosphere equipment available...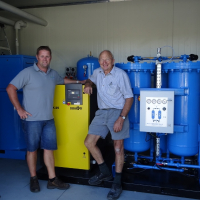 New CA Rooms for Local Hastings Pear Grower
1 March 2015
R J Flowers Ltd in Tywford, Hastings have just completed commisioning their 6 new controlled atmosphere rooms built onsite to store their Pears long term. R J Flowers had been storing their pears off site for many years in leased CA rooms and finally decided to take control of their own destiny and store the pears onsite where they could monitor...