R J Flowers Install Ethylene Analyser
28 February 2018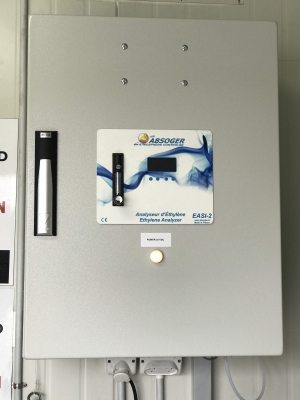 R J Flowers of Twyford wanted to add further real time monitoring and management of their Pear Control Atmosphere rooms. Monitoring the ethylene levels in real time inside each Pear CA room creates a great management tool to enable the operator to see when the fruit maturity is increasing and needs to be packed and shipped or how often a ethylene scrubber needs to be working on each room to conserve power. ABSOGER EASI-2 Ethylene Analyser was installed today to provide R J Flowers with the additional real time room management they required.
The EASI-2 ethylene analyzer enables you to take a precise measurement of the ethylene content of the air in real time. The sensor, consisting of a nano-porous nafion membrane, is a US patent-protected technology. This sensor provides excellent ethylene sensitivity at levels as low as 10ppb in the air. Ethylene is a hormone produced by plants, fruit and vegetables as a response to stress and also during ripening. Analyses of the ethylene in the air have been used as "ripeness indicators" in the agricultural sector for several decades. However, until now, highly sensitive ethylene measurements were only possible for experts in research laboratories using scientific equipment. EASI-2 is designed for fruit producers, packing houses and researchers, enabling them to take very precise measurements and improve their fruit and vegetable conservation.
Applications
CA room monitoring and management
(kiwifruit, apples, peaches, avocados, melons, bananas, passion fruit, etc.)

Refrigerated container monitoring

Ethylene control in degreening and fruit ripening room

Gas detection

Fruit respiration analysis
More further infomration please contact Hort Air Services or visit the following website......