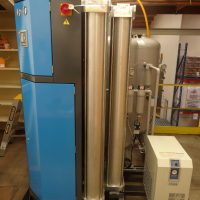 Bell Tea & Coffee latest Addition
24 November 2014
Hort Air Services has just completed final commissioning of Bell Tea & Coffee's latest addition, ABSOGER GENIUS 4 PSA Nitrogen Generator for their coffee bagging plant in their manufacturing factory in East Tamaki, Auckland. After years of back breaking man handling large bottles of nitrogen along with the huge expense to rent bottles...
Succesful Few Months
1 November 2014
Hort Air Services has had an extremely busy but productive past few months. We've been succesful and managed to secure the following contracts/Installations: Extreme ULO installation for 8 new CA rooms in Shepparton, Australia for the storage of Apple and Pears Ethylene Scrubber installation for tomato coolrooms in Cobram,...