Bell Tea & Coffee latest Addition
24 November 2014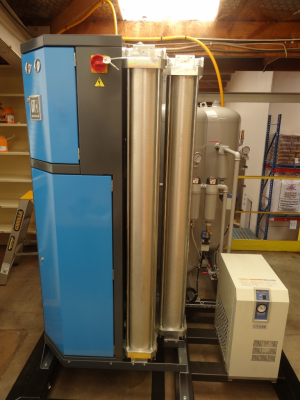 Hort Air Services has just completed final commissioning of Bell Tea & Coffee's latest addition, ABSOGER GENIUS 4 PSA Nitrogen Generator for their coffee bagging plant in their manufacturing factory in East Tamaki, Auckland.
After years of back breaking man handling large bottles of nitrogen along with the huge expense to rent bottles annually Bell Tea & Coffee investigated nitrogen generators available on the market and discovered producing their own nitrogen onsite was a very realistic and viable option.
The ABSOGER GENIUS 4 PSA Nitrogen Generator was the successful unit chosen for the job. The GENIUS 4 produces 10.4m3/Hr of 99.9% pure nitrogen and feeds the factories coffee bagging machines.
ROI for most manufacturing plants currently using bottled nitrogen is less than 2 years, so this just shows the money being wasted by renting bottles of nitrogen not to mention the loss time changing bottles and the potential injuries to your staff having to manually handle these large heavy bottles.
If you would like to know more about the range of ABSOGER PSA nitrogen generator's for your manufacturing factory, whether it's for food, chemical or a laboratory, ABSOGER have a nitrogen generator to suit any size requirement just contact Jason at Hort Air Services Ltd today.