Successful trials of Active Controlled Atmosphere technology for Avocados
22 February 2018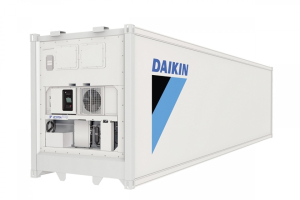 Avanza, a supplier of premium Hass avocados, has completed a successful trial with Daikin Reefer, a global supplier of container refrigeration equipment. Using Daikin's Active Controlled Atmosphere (CA) technology, Avanza trialled a proof of concept shipment of 6,500kg avocados between the ports of Tauranga, New Zealand, and Busan, Korea. The positive outcome now sees Daikin's Active CA in pole position for transportation of next season's avocados.
The trial took place in December, towards the end of the New Zealand avocado season, which runs from September to January. As global awareness of the health benefits of avocados increases, so too does demand. By slowing down the ageing process that food and other sensitive, perishable products undergo during transit, CA allows them to be transported in better condition for longer periods of time, extending shelf life.
Hort Air Services portable nitrogen generator was used to flush the container initially on shore to decrease the oxygen faster and create a CA environment more instantly than what the onboard system would allow.
Colin Partridge, technical manager and representative of Avanza, explained: "Controlled atmosphere reefer technology is essential to our business as avocados are a high respiring cargo and need precise optimal atmosphere levels throughout transit to safeguard quality over long distances. As the only active, rather than passive system in the market, we wanted to trial Daikin's Active CA technology to see if the benefits of an active system are genuine. We're delighted with the results and are now discussing the use of Daikin's system for next season's shipments."
Hort Air Services has a range of Portable Nitrogen Generators available for hire which are used each season for flushing CA containers of Avocados, Kiwifruit, Apples and other products. if you would like to know more about extending your produce during transport or shipping speak to Hort AIr Services today