Jonny Appleseed CA Upgrade
27 May 2017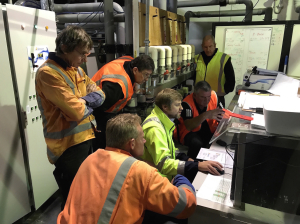 Well another satisfied customer, Hort Air Services was tasked with the urgent replacement and installation of a new Fully automatic controller (Analyser system) for Jonny Apple Seed's Controlled Atmosphere rooms in Havelock North.
The new ABSOGER Supervisor V7 was retrofitted and connected to the sites existing Isolcell CO2 scrubbers and came complete with 24 rooms capability, automatic and manual nitrogen injection, EASI-2 ethylene monitoring analyser. The system can be remoted into from anywhere in the world via a smart phone or tablet/PC and controlled. We also have the ability to add temperature/RH/Individual room pressure sensors if required.
If you would like to know more retrofitting ABSOGER equipment to your existing plant dont hesitate to contact Jason to discuss further.